Bathroom Renovation Dubai
Bathroom Renovation Dubai with AfinityMS
AfinityMS will take your bathroom to new levels of luxury. Our bathroom renovation services in Dubai are designed to elevate the ordinary to the spectacular. We understand the importance of using high-quality materials to design your ideal toilet, just like our rivals. What distinguishes us is that we consistently strive for excellence in all we do.
Some organizations provide a one-year warranty on craftsmanship, but we go above and above; we guarantee the best quality. We will never stop trying to ensure that our restrooms are both visually appealing and functional.
So, why settle for mediocre when you can have extraordinary? AfinityMS is the business you can rely on to transform your bathroom into a luxurious refuge. Contact us right away, and we'll work with you to design a bathroom that is more than simply a space; it will be a piece of art. With a little effort, you can have the perfect bathroom.
Contact AfinityMS
Get a call back in a few minutes
Luxury Bathroom Renovation Services in Dubai
Whether you want a modern spa-like refuge, more utility, or a personalized touch, the AfinityMS team of talented designers and craftspeople will work hard to make your vision a reality.
Complete/ Partial Bathroom Remodel

Shower and Tub Installation/Replacement

Vanity and Sink Upgrades

Flooring and Tile Installation

Lighting and Fixture Updates

Plumbing and Electrical Improvements

Accessibility and Safety Modifications

Custom Cabinetry and Storage Solutions

Eco-Friendly Bathroom Upgrades

Small Bathroom Space Optimization
Why Choose AfinityMS for Bathroom Renovation in Dubai?

Expert Team: Our experienced designers and artisans contribute years of expertise to your project, assuring quality work.
Quality Materials: We utilize high-quality materials and fixtures to ensure the lifetime and durability of your newly remodelled bathroom.
Personalization: We collaborate with you to customize the remodelling to your vision, providing tailored solutions.
Timely Delivery: We recognize the value of time and endeavour to complete your job within the agreed-upon timeline.
Competitive Pricing: We offer outstanding value while never sacrificing quality, delivering cost-effective remodelling.
Homeowners need to know before starting a bathroom renovation project
Here are some important aspects to consider before beginning a bathroom renovation project in Dubai:
Budget: Establish a budget and priorities the most important aspects of your renovation.
Design: Have a clear idea of the bathroom design and layout you want.
Permissions: Make certain that you have all of the appropriate permissions for your renovation.
Quality Materials: For long-term benefits, invest in high-quality materials.
Experienced Professionals: For a stress-free experience, go with a professional renovation firm like AfinityMS.
Best Bathroom Renovation Contractor in Dubai
AfinityMS has established itself as Dubai's leading bathroom restoration provider. Our successful projects and satisfied clients are proof of our commitment to quality. We are dedicated to transforming your bathroom into a comfortable and contemporary refuge where comfort and sophistication meet.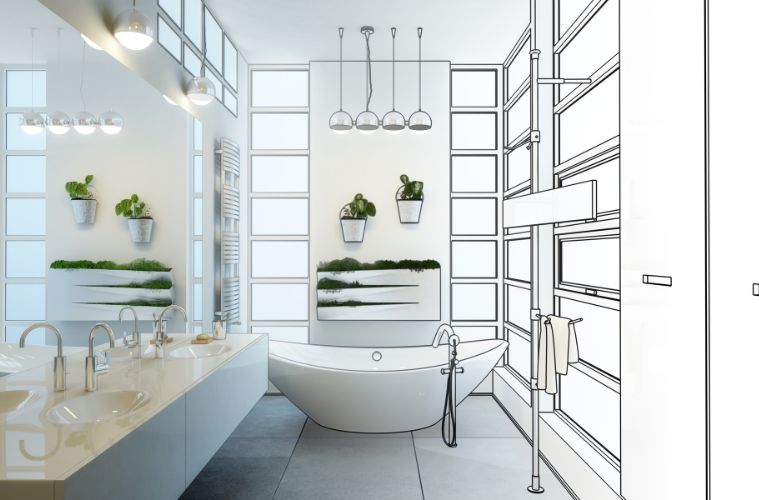 Cheap Dubai Bathroom Renovation Services
Luxury does not have to come at an exorbitant price. AfinityMS provides affordable services in Dubai. Our cost-effective solutions and value-driven approach ensure that you may have a magnificent bathroom remodel without breaking the bank.
What is the average cost of Bathroom Renovation?
Without knowing the work, materials, and homeowner's style preferences, it's impossible to estimate how much a Dubai bathroom renovation will cost. UAE bathroom renovations cost around AED 15,000. Major repairs may cost above AED 30,000. Please call +971-50-232-4534 for a bathroom update estimate.
How long does a typical Bathroom Renovation take to complete?
A bathroom renovation in Dubai can take anywhere from two to four weeks, based on how hard the job is and how many people are needed to do it. Our team does everything they can to give you a fair time frame based on the details of your remodelling needs.
What Are the Steps Involved in Bathroom Renovation?
Home Visit → Planning → Estimation → Implementation → Finishing 

FAQs – Dubai Bathroom Renovation
With AfinityMS, you can turn your bathroom into a beautiful hideaway. Call us at +971-50-232-4534 to discuss your bathroom renovation project OR you can drop an email on [email protected]. And let us make your idea a reality. Your perfect bathroom is only a remodel away!