Floor Renovation Dubai
We are experts in full floor renovation services in Dubai. We know that floors in homes and businesses get worn down every day. Our unique method is based on our knowledge of the different things that can damage floors, like water leaks, cracks, loose flooring, final damage, and scratches.
Your floors are important because they make your space safer, more useful, and nice. Flooring that isn't right or is broken can cause accidents and make the space feel unwelcoming. You can get professional floor installation services from us if you need flooring for your home, business, or elsewhere.
We make a difference from other Dubai floor repair services to make your area look beautiful again. Our team of experienced flooring repair and replacement experts in Dubai comes to your home to look at your floor, figure out what needs to be done, and make a plan. Pick the right flooring for your room, and we'll make it safe and attractive.
Start Booking For Floor Renovation
Get a call back in a few minutes
Our Floor Renovation & Fixing Services in Dubai
Whether you want to remodel your home or business, we have the skills and tools to complete the job. These are our services:
1- Floor Installation: Having hardwood, laminate, vinyl, tile, carpet, and other types of flooring put down by professionals.
2- Floor Repair: Flooring repair means restoring your floors to how they were before problems like wear and tear, scratches, spots, and more.
3- Floor Cleaning: Professional cleaning services are available to keep floors clean and return their original look.
4- Floor Polishing: Polishing the floor means making hard surfaces like marble, concrete, and terrazzo shine brighter and more brilliant.
5- Floor Coating: Floor coating means putting on protective coats like epoxy or polyurethane finishes to make the floor last longer and look better.
6- Floor Replacement: If you want to start over, we can replace your floors in a reliable and high-quality way.
7- Custom Flooring Solutions: We make our services fit your exact needs for style and usefulness.
Why Choose us for Floor Renovation in Dubai

You will not be sorry if you decide to assign us for your floor work. Our commitment to greatness is shown by the things below:
Expertise:

Our skilled crew knows how to do a great job of renovating floors because they know how complicated it is.

Quality Materials: We use high-quality materials to make flooring that looks great and lasts a long time.
Customised Services:

We believe in customisation, so the work we do to fix up your floors will be exactly what you want.

Competitive Pricing:

We have low prices so that everyone can afford to have their floors professionally refinished.
Our Working Process for Floor Renovation Dubai
We understand that renovating your floors can be a big undertaking, so we make it as easy and stress-free as possible. Our working process ensures you get the best possible results on time and budget.
Consultation: We start with a free consultation to understand your needs and goals for the renovation. We will discuss your budget, timeline, and design preferences.
Inspection: Once we understand your needs well, we will conduct a thorough inspection of your floors. This will help us assess your floors' condition and identify any potential problems.
Plan: Once we have completed the inspection, we will develop a detailed plan for the renovation. This plan will outline the scope of work, the materials to be used, and the timeline for completion.
Preparation: We will carefully prepare your floors before we begin any work. This may involve removing old flooring, repairing damage, and levelling the subfloor.
Installation: We will begin the installation process once the floors have been prepared. We use only the highest quality materials and workmanship and take great care to ensure that your floors are installed to the highest standards.
Quality control: Once the installation is complete, we will conduct a thorough quality control inspection to ensure that your floors are perfect.
Clean-up: Finally, we will clean up the work area and leave your floors looking their best.
Hire Affordable Floor Renovation Services in Dubai
People in Dubai know that we can do great work fixing up floors. We've built a name for quality through a history of great projects, and we'll always do our best to meet your needs.
Along with, we know how important it is to find answers that don't cost too much. Our price is meant to give you the best value, so you can make your dream flooring makeover a reality. Thanks to a team that cares about your happiness, We can help you make a beautiful floor change without going over budget.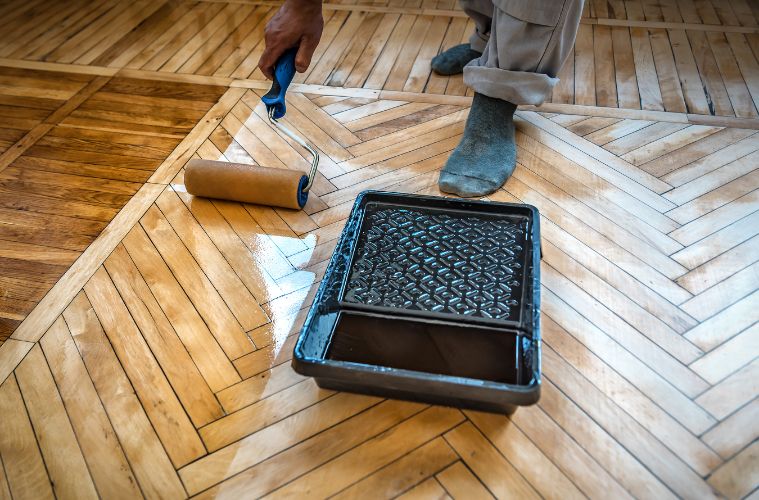 Hire Local Floor Renovation Services Near You
We are providing floor renovation services in dubai and all across the dubai to quick facilitate Dubai's citizens. So if you are ready to change the look of your home with professional floor repair services in Dubai. You can call us at +971-50-232-4534 to set up a meeting, talk about your project, or get a price quote.