Trusted Kitchen Renovation in Dubai
If you're considering renovating your kitchen in Dubai, We are your reliable partner for providing high-quality kitchen renovation services. We recognize that the kitchen is the heart of your house, where you make numerous precious moments. Regarding kitchen renovation Dubai, we're dedicated to changing your space into a practical, visually beautiful, modern kitchen that fits your lifestyle.
When it comes to picking high-quality materials and developing a layout that makes the most of available space and practicality, we spare no expense. You won't have to lift a finger since our skilled crew handles everything from plumbing and electrical work to flooring, tiling, lighting, fittings, and painting. Our specialists will install high-quality materials that not only enhance the beauty of your kitchen but also give adequate storage space, from sleek and futuristic to timeless classics. Call us at +971-50-232-4534 today to discuss your kitchen renovation project.
Booking for Kitchen Renovation
Get a call back in a few minutes
Luxury Kitchen Renovation Services in Dubai
Our talented designers will collaborate with you to develop a kitchen that is both functional and visually attractive. We take your tastes, available space, and budget into account when designing a kitchen that represents your own style. We provide a wide range of cabinet alternatives to fit your style and budget. We provide a variety of kitchen renovation dubai services that are custom-made to your unique needs and tastes. Among our services are:
Kitchen Design and Planning
Cabinet Installation
Countertop Installation
Flooring and Tiling
Plumbing and Electrical Work
Lighting and Fixtures
Painting and Finishing
Why Choose Us for Kitchen Renovation Dubai Services?

Experienced Professionals: Our team is comprised of professional designers, artisans, and technicians with years of expertise in kitchen restoration projects.
Quality Materials: We employ high-quality materials and products to ensure that your kitchen is not only attractive but also long-lasting.
Customization: We collaborate with you to design a kitchen that meets your unique demands, style, and budget.
Timely Delivery: We recognize that time is of the utmost, and we work hard to complete your kitchen renovation job within the agreed-upon timeline.
Competitive Pricing: We provide competitive pricing to ensure that you get the most bang for your buck.
Homeowners in Dubai need to know before starting a kitchen renovation project
Before starting a kitchen renovation project in Dubai, keep the following points in mind:
Budget: Establish a budget and prioritize the most important aspects of your renovation.
Design: Have a clear idea of the kitchen design and layout you want.
Permits: Make certain that you have all of the appropriate permissions for your renovation.
Quality Materials: For long-term benefits, invest in high-quality materials.
Experienced Professionals: For a stress-free experience, go with a professional renovation compnay.
Hire a professional to renovate your kitchen
Hiring a professional to renovate your kitchen is a good investment. Professionals with experience can help you navigate the process, make educated decisions, and ensure that your kitchen renovation project exceeds your expectations.
Best Kitchen Renovation Service Provider in Dubai
We developed our reputation with expertise and dedication to client satisfaction as one of Dubai's leading kitchen renovation service providers. We have successfully renovated dozens of kitchens into attractive and practical places that homeowners adore.
Cheap Kitchen Renovation Services in Dubai
Our budget-friendly kitchen renovation Dubai services combine affordability and excellence. We believe that everyone, regardless of income, deserves a beautiful kitchen. Our low-cost solutions and clever design choices enable you to completely alter your kitchen without breaking the budget. We enjoy providing outstanding value, ensuring that your kitchen makeover project is cost-effective and visually appealing.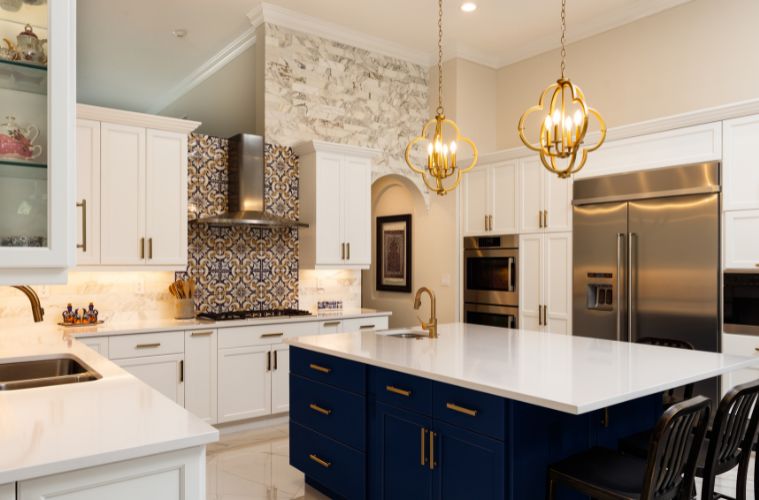 Our Working Procedure
Home Visit → Planning → Estimation → Implementation → Finishing 

What is the cost of renovating a kitchen in Dubai?
The cost of a kitchen remodel in Dubai can vary greatly based on a variety of factors, including the size of your kitchen, the materials you select, and the complexity of the restoration. A modest kitchen remodel can cost roughly AED 25,000, while more comprehensive renovations can cost AED 50,000 and above. Please call us at +971-50-232-4534 for a detailed quote on your kitchen renovation dubai.
How long does it take to renovate a kitchen in Dubai?
A kitchen renovation project in Dubai might take anywhere from 4 to 12 weeks to complete, depending on the complexity of the project and the breadth of work required. We make every effort to present you with a realistic timeframe based on your individual refurbishment requirements.
With Afinity Maintenance Services, you can transform your kitchen into a beautiful and useful place. Call us at +971-50-232-4534 today to discuss your kitchen renovation project and receive a personalized price. Or you can drop an email on [email protected]. Your perfect kitchen is only a remodel away!